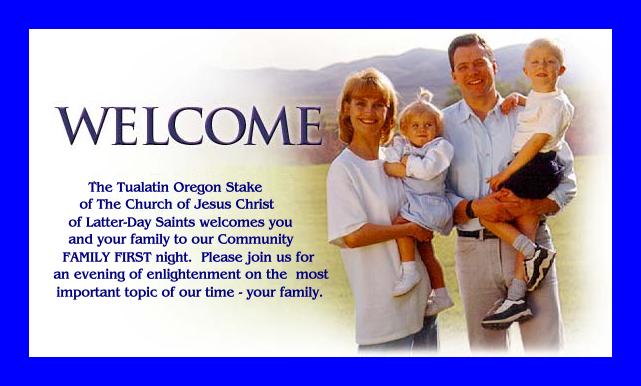 The Tualatin Oregon Stake of The Church of Jesus Christ of Latter-Day will be hosting an open house entitled FAMILY FIRST, on Sunday November 21, at 7:00 PM for the communities of Tigard, Tualatin, and Sherwood. The purpose is to meet with friends and neighbors of all faiths to address the challenges facing families in our communities. The LDS church is recognized around the world for promoting the unity of the family as the cornerstone of society. Gordon B. Hinkley, the President of the LDS church has said, The strength of any nation is rooted within the walls of its homes."
This FAMILY FIRST night will be held at 22284 SW Grahams Ferry Road in Tualatin. The evening will include a demonstration on the use of the Family History Library, a branch of the largest genealogical library in the world with access to millions of names and records. Troop 844 of the Boy Scouts of America will present the fundamentals and values of Boy Scouting and other youth programs sponsored by the LDS Church. Methods of teaching children Christ like values and virtues of love and honesty will be presented. Materials and demonstrations on Family Home Evening will be provided. Family Home Evening is a world renowned program advocated by the LDS Church in which families meet weekly to plan events, discuss family issues, enjoy family outings and activities.
This is an evening for all ages, religions and interests. Families worldwide have benefited from the remarkable success of these programs and The LDS Church wishes to open its doors to present the fundamentals of family success to their community. Child care and refreshments will be provided on the premises at no cost. If you are just beginning a family or have grandchildren, you will not want to miss this event.
For further information please contact Brent Noffz at 692-3868
On-line Family Guide book
Contact Jon Webber for a free Family Home Evening Manual
Last Updated on 10/28/1999